Ooty Taxi Home » Tour List » Tour Informations
Kodaikanal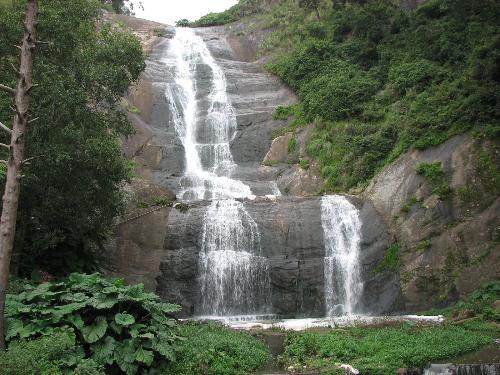 Kodaikanal - The Princes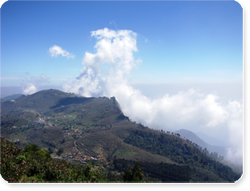 Kodaikanal is one of the most popular hill resorts in India. It is a charming hill station, stands amidst sylvan beauty on the southern crest of the upper Palani Hills near Madurai in Tamil Nadu. With its rocks, woods, lovely lake and bracing air, Kodaikanal is an ideal hill resort for the tourists.

History of Kodaikanal
The unique flowering plant 'Kurunji'(Strobilanthus Kunthanus) that last bloomed in 2004, is nature's gift to Kodaikanal. Kodaikanal located amidst the folds of the verdant Pali hills is one of the most popular serene hill stations in India, which mesmerises any visitor and is frequented all through the year.

Kodai is situated at an altitude of about 2,133-m high and covers an area of 21.45-sq-km. The hill town is renowned for its educational institutions of international repute. The hill-plantain fruits and plums are known for their freshness and taste. Berijam lake, one among the beautiful lakes of South India, spreads over an area of 24 hectares. According to the history of Kodaikanal, this hill resort was discovered in the early nineteenth century during the colonial period. It was, however, during the 1840s that the people first started settling in this place. Besides the British,the other early settlers of the place, having loving memories about Kodaikanal, were the American, French, Swedish, Irish and German missionaries.

A walking track up to Kodaikanal was made from the Kumbakarai falls, at the foothills near Periyakulam town. Only palanquins could pass through this path. Later, in the early twentieth century, the Law's Ghat road was constructed. This road was opened for regular traffic during 1920s.

The star shaped Kodaikanal lake came into existence in 1863 and it still serves as the water source of the temple city of Palani. It was only during the 1960s, that Kodaikanal started gaining importance as a tourist spot. Rich and elite Indians started setting up resorts in this place.

The 1980s was the most important time in the history of Kodaikanal. Tourismstarted booming up in this place changing the whole scenario of the region.

Places Of Interest
Kodaikanal has several scenic natural attractions which are enjoyed by its visitors and make it a popular romantic destination for newly weds. These are described in order of distance from the bus-stand.

Kodaikanal Lake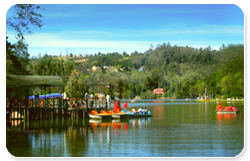 0.5 km (0.3 mi) from the bus stand, is an artificial, roughly star-shaped 45 ha (60 acres) lake built in 1863. It is recognized as Kodaikanal's most popular geographic landmark and tourist attraction. Rowboats and pedalos can be hired at the Kodaikanal Boat Club with its main entrance near the only five-star hotel in Kodaikanal, The Carlton. Horses and bicycles can be hired beside the lake for short periods. The 5 kilometers (3 mi) path that skirts the periphery of this lovely lake is a favourite walk for the locals and tourists alike.

Bryant Park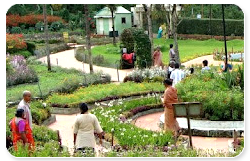 Just east of the lake and 0.5 km (0.3 mi) from the bus stand, is a wonderfully maintained 20.5 acres (8.3 ha) botanical garden. The park was planned and built in 1908 by a forest officer from Madurai, H.D.Bryant, and named after him. With 325 species of trees, shrubs and cactuses, the park is a rainbow of stunning flowers during the peak season. A large section is dedicated to nearly 740 varieties of roses. There is a 1857 Eucalyptus tree and a Bodhi tree which adds a religious significance to the park. Ornamental plants are cultivated in a nursery for sale. The park organizes horticultural exhibits and flower shows every summer, to coincide with the peak season. Entrance fee to the park is nominal and it is open all year.

Coaker's Walk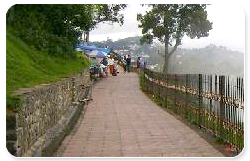 0.5 km (0.3 mi) from the bus-stand, constructed by Lt.Coaker in 1872, is a 1 kilometers (0.62 mi) paved pedestrian path running along the edge of steep slopes on the southern side of Kodai. The walk, winding around Mount Nebo, starts in front of the Van Allen hospital, running parallel to the Van Allen Hospital Road and joins the main road beside St.Peter's Church, providing a stunning panoramic view of the plains. On a clear day one can view as far as Dolphin's Nose in the south, the valley of the Pambar River in the southeast, Periyakulam town and even the city of Madurai. A fascinating rare phenomenon called Brocken spectre can be witnessed, when a person can see his shadow on the clouds with a rainbow halo. This occurs when the sun is behind the viewer and clouds and mist are to the front. There is an observatory with a telescope halfway along the walk. Entrance fee to the walkway is nominal and it is open all year.

Bear shola falls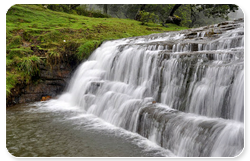 3 kilometers (2 mi) from the bus-stand, is a tall waterfall in a Reserve forest. The final approach to this quiet area is a gently climbing foot-path.





Green Valley View

(formerly called Suicide Point) 5.5 kilometers (3 mi) from the bus-stand and near the golf course, has an excellent panoramic view of the plains and a sheer drop of 1,500 meters (4,921 ft) overlooking the Vaigai Dam to the south. The stairway leading up to it is highly commercialized and lined with rows of shops to tempt tourists.



Shenbaganur Museum of Natural History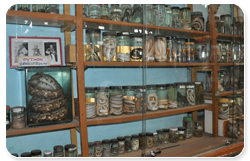 6 kilometers (4 mi) from the bus-stand, founded in 1895, is open to the public for viewing their outstanding taxidermy collection of more than 500 species of animals, birds and insects and a living collection of over 300 exotic orchid species. The museum is affliated with Loyola College in Chennai and exhibits artifacts of the ancient Palaiyar tribes people whose descendants still live in these hills.



Kodaikanal Solar Observatory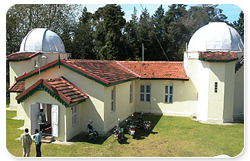 6 kilometers (4 mi) from the bus-stand on Observatory Road, at 2,343 meters (7,687 ft) is the highest location near Kodai. The first observations were commenced here in 1901. Former Director John Evershed, discovered the phenomenon of radial motion in sunspots, now known as the Evershed effect. The Kodaikanal Terrestrial Telescope can view a grand panorama including: Sothupparai Dam, Vaigai Dam, Periyakulam and Varaha river. This Indian Institute of Astrophysics facility has a comprehensive Astronomical Science museum with organized public tours, access to the astronomy library, and scheduled night-time telescopic sky viewing. It is open daily to the public during peak season, and a few hours each Friday the rest of the year.

Pillar Rocks


8 kilometers (5 mi) from the bus-stand, is a set of three giant rock pillars which stand 122 meters (400 ft) high. Managed by the Tamil Nadu Forest Department, The viewpoint can be crowded but is not commercialized. There is an excellent public garden adjacent to the viewpoint.




Guna caves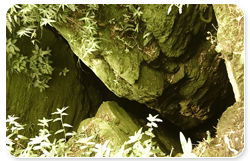 made popular by the Tamil movie Guna, previously called Devil's Kitchen, are deep bat-infested chambers between the three gigantic boulders that are the Pillar Rocks. The deep narrow ravines of the caves are now closed to public due to the tragic deaths of twelve youths there.[citation needed] These dangerous caves are highly protected now, and tourists can see sections of the cave system from afar.




Silver Cascade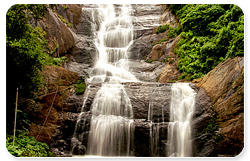 8 kilometers (5 mi) from Kodaikanal at a wide bend in the long and winding Laws Ghat Road, at altitude 1,800 meters (5,906 ft), is a 55 meters (180 ft) waterfall formed from the outflow of Kodaikanal Lake.The water quality is reportedly poor and not good enough for bathing.This impressive waterfall is a popular stop for first-time visitors. There are a few souvenir and fruit vendors and many monkeys here. There is also a smaller but more serene waterfall below the bridge which crosses the stream here.

Dolphin's Nose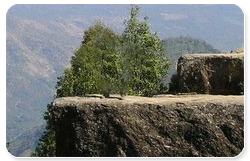 8 kilometers (5 mi) from the bus stand, is flat rock projecting over a breathtaking chasm 6,600 feet (2,000 m) deep. It is an undisturbed area 1 kilometers (1 mi) down a very steep rocky trail beginning soon after Pambar Bridge. Orange juice vendors along the trail offer a welcome rest stop. Beautiful views of steep rocky escarpments rising from the plains can be seen. The old village of Vellagavi can be reached through a rugged bridle path here. A short paved walkway leads from the road here to Pambar falls(which is also locally addressed as 'Liril Falls' after the famous Liril Soap Advertisement filming in 1985).

Kurinji Andavar Murugan temple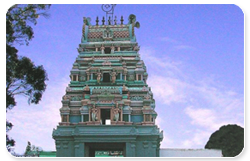 4 kilometers (2 mi) from the bus-stand, is famous for its Kurinji flower which blossoms in the area only once every 12 years. The deity here is called Sri Kurinji Easwaran, who is in fact Lord Murugan. This temple was built in 1936 by a European lady, who on coming to India, converted to Hinduism. She changed her name to Leelavathi and married a Mr.Ramanathan. She is also known as Lady Ramanathan. This temple is under the management of Arulmighu Dhandayuthapani Swamy Thiru Kovil, Palani